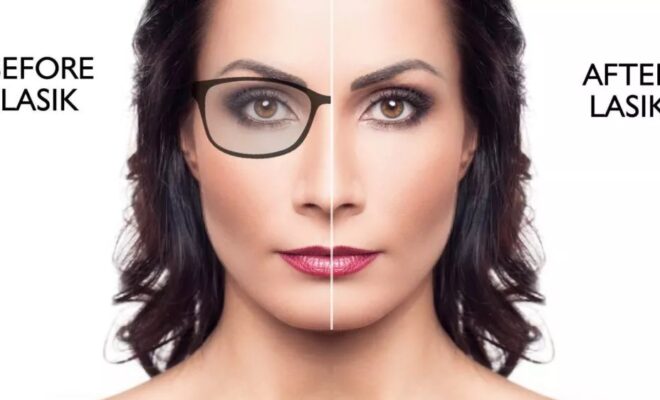 LASIK surgery from discover vision for example is one of the most popular methods for those who want to leave contact lenses and glasses behind, and it can reduce or eliminate degrees of myopia, hyperopia, and astigmatism. Painless, quick, and with a very high degree of success rate (above 90%), LASIK surgery has a faster recovery and a more relaxed postoperative period than PRK. Follow the article to learn more about LASIK surgery, when it is indicated, and where to perform it more safely.
How Does LASIK Work?
LASIK surgery is performed with the aid of two high-precision lasers: the Femtosecond and Excimer Lasers. While the first is in charge of making a tiny circular incision in the membrane that covers the cornea (called a flap), the second act directly on the innermost parts, promoting the process of correcting the curvature of the cornea.
The application of the laser to the inner layers of the cornea in LASIK surgery lasts only a few minutes, and once the procedure is finished, the flap is replaced without the need for stitches. Learn about the pros and cons of lasik here.
How LASIK Surgery Works
The patient should not feel pain during any stage of LASIK surgery: before the procedure, anesthetic eye drops are administered, and sometimes even other types of medication to keep him more relaxed. Some patients report feeling pressure on the eye but at entirely tolerable levels.
Therefore, LASIK surgery is performed with the patient awake and alert, and it is not necessary to stay in the hospital after the procedure. Many people can return to daily activities on the same day, except avoiding heavy physical exercise in the first two days and swimming in the pool in the first month.
Despite this, the recommendation is to take a companion with you during the LASIK surgery. After all, some people may experience blurred vision, especially in the first few hours after the procedure. So, the presence of a companion ensures a safer return home.
Symptoms such as itching, burning, or blurred vision usually disappear within a few hours. It is possible to notice an improvement in vision after the first 24 hours. If this does not happen, contact your eye doctor to investigate the causes.
When Is The LASIK Technique Indicated?
Before performing any refractive surgery, your ophthalmologist will prescribe a series of exams such as fundus examination, retinal mapping, corneal topography, and tomography, among others. Based on the evaluation of the results, the best refractive surgery technique will be indicated. LASIK surgery is one of the most indicated methods for treating myopia, hyperopia, and astigmatism (separately or together). In addition, it can also be used in the treatment of presbyopia.