Microtia: A Congenital Ear Deformity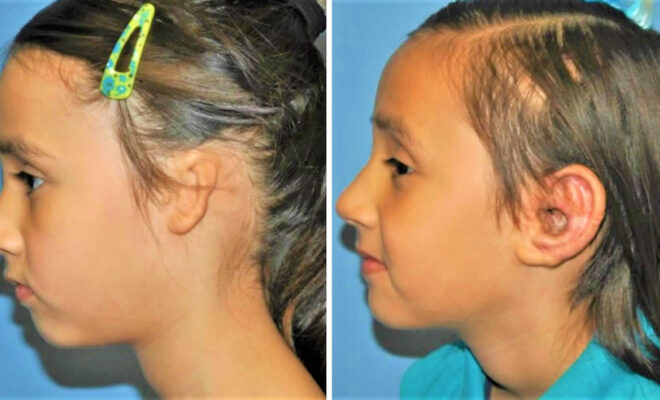 Often children are born with structural deformities in their body, and microtia is one of them. Roughly around 1 to 5 kids in 10,000 births are diagnosed with Microtia. It is the deformity in the outer ear that varies from mild structural issues to complete missing of the external ear. Ear reconstruction surgery is the most effective treatment for children suffering from severe deformities, like missing the external ear, and lack of ear canal.
Risk factors for microtia
Certain factors incur risk factors for microtia. Some of them include:
Expecting mother is above the age of 35 year
The pregnant lady is severely sick
Lack of folic acid and carbohydrates consumption during pregnancy
Intaking medications like isotretinoin while pregnant
Suffering from high blood sugar
A child born with the deformity
Cause of microtia
Usually, microtia develops during the early weeks of the first trimester of pregnancy. In the majority of the cases, doctors are unaware of the causes. Often it is associated with alcohol and drug use during pregnancy. In some cases, it can be because of craniofacial microsomia (a condition affecting face development in the womb). Moreover, microtia is also triggered due to genetic reasons, environmental factors, and dietary limitations (especially folic acid, and carbohydrates) during pregnancy.
Symptoms
The signs or symptoms of microtia includes:
Complete missing of the outer ear
An abnormally developed outer ear
Smaller than a usual size ear
Diagnosing microtia
Microtia can be easily diagnosed before birth. The deformity of the ear is visible using imaging tests, like CT scans. A detailed image of the baby's ear can be studied. This is helpful for the doctors to look for the abnormalities of ear structure and thereby help fix it. Microtia is classified into types or grades and based on the diagnosis, the treatment plan is conducted by doctors and surgeons.
Grade 1 refers to the scenario where the external ear structure is smaller than average ears. But the other parts are present except for minor deformities.
In Grade 2, the outer ear is small and developed partially.
In Grade 3, there is a presence of some auricular structure but lacks any recognized ear components.
Finally, in Grade 4, there is a total absence of an external ear
Based on the diagnosis of the grades, from one to four, Microtia management and treatment plans are made.
Treating microtia
Every external ear deformity of microtia doesn't need aggressive treatment. But any hearing loss associated with the external appearance mustn't be ignored. Parents must ensure to conduct hearing evaluation early and maintain follow-ups throughout early childhood. Several options can be chosen for addressing microtia.
The use of prostheses, made from a silicon-based material is an option that is not usually preferred for kids. This is because the use of magnets or adhesives demands regular maintenance, which can be a hassle for kids and their parents.
Reconstructive surgery is another option, which is often the only available solution. As early as six months, a baby can undergo the surgery, involving two to three sessions. A new car is created using either synthetic materials or live ribs.
Conclusion
The good news is that addressing Microtia, hearing can be restored and improved. Kids can lead an active and healthy life with normal development. Often for retaining self-confidence, the ear deformity must be addressed.