Dandruff During Pregnancy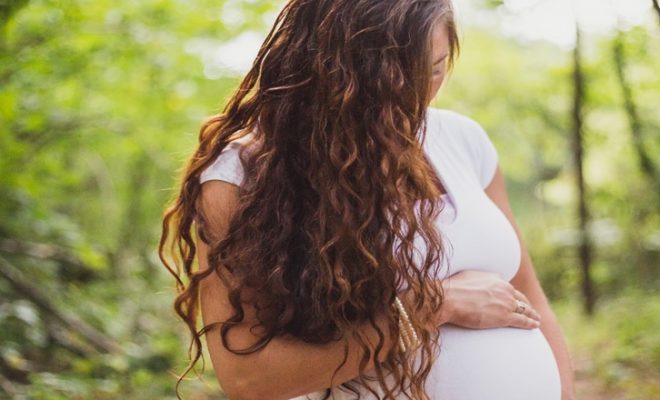 Dandruff is an unpleasant issue and dealing it along with other pregnancy symptoms can be exhausting.  So, what should you do? You need to get to the bottom of what's causing dandruff and how to treat it. 
Is it Common to Have Dandruff During Pregnancy?
Dandruff causes visible white flakes and makes your scalp itchy. It occurs due to the presence of a fungus called 'Malassezia', that's usually present on the human scalp. But when the scalp produces excess oil, it results in oleic acid, a byproduct of Malassezia, metabolize sebum, which leads to excessive growth in skin cells which promotes flaking, and these flakes are generally dandruff.
Doctors are always asked by their female patients whether pregnancy could trigger dandruff. Dandruff tends to occur during pregnancy, and the following factors are known to cause it:
Your body goes through a lot of hormonal changes during pregnancy. These hormonal changes trigger excess oil production, which results in generation of new skin cells at a faster rate. This causes the scalp to become coated with flakes.
Your body tends to be more vulnerable during pregnancy, and because of the weak immune system, the odds of getting fungal infections are considerable. The system becomes more sensitive during pregnancy and strives to keep these germs at bay, resulting in irritation and flaking on the scalp.
Sensitivity towards hair products:
Hair products, such as hair oils and hair styling tools are key factors to the development of dandruff on the scalp during pregnancy. The unusual peeling of skin cells is just the consequence of your skin's defensive reaction. Even if your skin is accustomed to these treatments and you might have not switched product brands throughout pregnancy, your scalp might still respond differently, and this can cause flaking.
How to Treat Dandruff During Pregnancy:
When it comes to flaking in pregnant women, the following tried-and-tested dandruff home remedies can be immensely useful.  Experiment with them to see how successful they are.
Flaking skin may be efficiently managed by using apple cider vinegar as a treatment. It won't cause any harm if you use the right amount of water and equal amount of vinegar. The acidity of vinegar reduces the pH of the scalp, making it inappropriate for the growth of bacteria. it also has antibacterial qualities, which helps to keep the scalp dirt-free by eliminating dandruff-causing bacteria.
Aloe vera can be great solution to soothe the itchiness on the scalp caused by dandruff. It has anti-inflammatory and nourishing properties to keep scalp dirt-free and moisturize the scalp naturally, and this will help you control flakes.
Generously cleanse the scalp by adding 2-3 teaspoons of genuine sea salt in an appropriate shampoo. After exfoliating, apply a conditioner. This remedy will aid in the management of dandruff.
The one thing pregnant women should totally avoid is 'stress'. Your skin issues might be caused by a variety of stressors, therefore controlling them is essential for remaining dandruff-free throughout your pregnancy.
Use an appropriate dandruff shampoo to keep your scalp clean to avoid any excess oil build-up. Try Head and Shoulders shampoo for treating your dandruff. It is formulated with zinc pyrithione which has anti-bacterial and anti-fungal qualities. This shampoo can reduce the fungus that causes dandruff and makes your scalp healthy again.
Haircare is a major aspect of your routine, and it is more crucial during pregnancy. Maintaining your scalp's cleanliness, following a balanced diet, and managing stress can assist with treating dandruff.