The 7 Secrets to Healthy Hair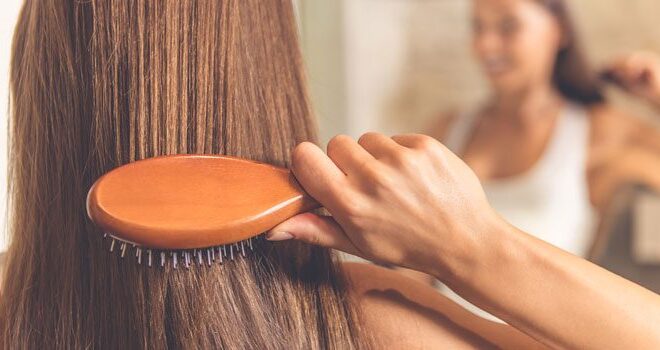 When you want beautiful, healthy hair, there is good news. You can have your best hair yet if you limit stress on your hair and nourish it well. There are plenty of ways to give your locks the care they need to thrive. Here are 7 secrets for beautiful, strong strands.
Trim Your Hair
Most hair professionals agree that you should trim your hair every 6-8 weeks. The best way to do this is by going to a professional who will be able to give you the right shape and length that's right for you. If you decide to take matters into your own hands, make sure that you have the proper tools and use them correctly.
Wet Hair is Fragile
This is why it's so important to be gentle if you're brushing it while wet and to use the best products on those hairs. They will absorb anything, so it's best to use products that have undergone hair care product testing. When you shampoo your hair, use a gentle formula. Shampooing strips away natural oils and makes the hair more vulnerable to breakage. Conditioning is an important part of taking care of your hair, so it's important to let all that goodness soak in before you rinse. Be gentle about drying as well. It's best to pat or gently squeeze dry your hair instead of rubbing it vigorously.
Give Your Hair a Break From Heat
Don't go overboard on the heat styling. Heat styling is a big no-no for healthy hair. We know that, but it's hard to resist the temptation of a flat iron or curling iron when you've got an important event coming up and your hair just won't cooperate. But that doesn't mean you have to give up on your dream updo. There are plenty of ways to protect your hair while using heat tools—and they're surprisingly simple.
Use a heat protectant spray beforehand. Once you've sprayed down a section of dry or damp strands with the product, use your tool of choice to work through each section until they're all straightened out or curled, then repeat until all sections are done.
Use the Right Brush
There are a number of brushes you can use to style your hair, but a few are essential. A wide-toothed comb is the best for general detangling. If you have curly hair or want to encourage curls, try boar bristle brushes instead of plastic vent brushes. Boar bristle brushes are gentle on the scalp and help distribute oils throughout your hair shafts. If you've got straight locks that need some volume without much fussing, try using a vent brush with longer bristles.
Be Gentle When Drying
There is no need to be aggressive with your hair. Treat it kindly and it'll start to look amazing. The last step in the hair-washing process is to gently dry your hair. Use a soft, absorbent towel instead of rubbing or scratching your scalp with a scratchy towel. Don't use a blow dryer, which can cause heat damage and weaken your hair's structure and cuticle layer. And don't straighten it with an iron unless you use a heat protectant because this will also cause unnecessary heat damage.
Eat a Healthy Diet and Stay Hydrated
Your body needs a healthy diet in order to produce healthy hair. Look for foods that are rich in protein, such as fish and beans, to help build up your hair follicles. Vitamins and minerals like B vitamins, iron, zinc, and selenium also play a role in keeping your scalp healthy and growing strong hair follicles. Drink plenty of water every day to keep the nutrients flowing through your body so they can reach those follicles too. Collagen will help you build strong and beautiful locks as well. You can get it in meat, fish, and even bone broth made at home.
Try Essential Oils
Essential oils are the perfect addition to your natural hair care routine. They can help repair damaged hair, relieve dandruff, and even treat split ends. You can also apply them topically to your scalp and use them in a dry shampoo. If you're looking for something new that will add moisture back into your strands, consider trying one with rosemary, especially if you notice any thinning hair.