Altitude Sickness: All You Need To Know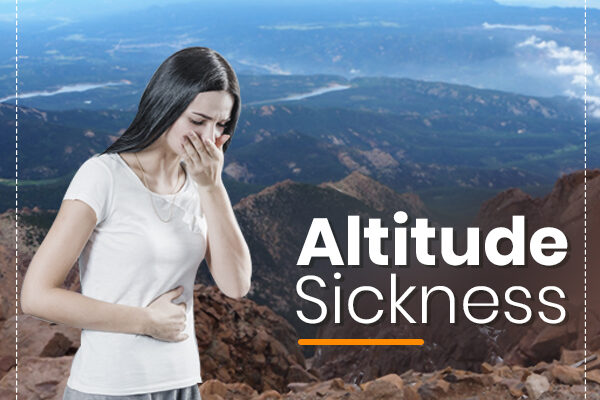 High altitudes can be the reason for falling sick even after returning. It happens to many people and requires immediate solutions. Therefore, before planning a trip to hilly regions, a person must be aware of the probable altitude sickness. Altitude sickness after returning home is not uncommon among first-time travelers. However, it does not mean that only those who travel to heights first.
The body needs some time to adjust in case of a change of altitudes. Therefore, it is better to keep some medicines in hand to manage the sudden sickness in case of elevation. On the other hand, unfavorable health conditions can occur for a person who stays in high latitude and returns from the plains after a few days. It is necessary to know about the dos and don'ts when there is a shift in the heights.
Symptoms After Coming Back
Altitude sickness after returning home can disturb your health for a temporary period. However, the effects will not stay for a considerable time. The common symptoms for such cases include nausea, vomiting, loss of appetite, fatigue, and headaches. But they can vary from one person to another. If a person faces different issues while on the high elevation, the same will automatically go away after coming back to the plains.
The theory is completely opposite for people living in high altitudes. The primary reason behind such conditions is adjusting to the new oxygen levels and air pressure. When these environmental conditions are changing, breathing frequency also faces some alterations. Thus, it will impact the body greatly, leading to multiple issues. Appropriate medicines are there to keep the health stable without deteriorating much.
Types Of Altitude Sickness
The mild sickness can become prominent within 12 to 24 hours of reaching the new place. However, apart from this, the types of altitude sickness can be the following:
Moderate altitude sickness
Severe altitude sickness
The severe ones include two different types, viz. HAPE and HACE. The last type can even end up in hospitalization if the symptoms are severe. Different treatments are available for all kinds of sickness that one can get from visiting the higher altitude. Generally, the mild ones will get cured after coming back. But if the conditions become serious, altitude sickness after returning home will get over so easily. Proper diagnosis and timely treatment are critical in such cases.
Some essentials that a patient need in these conditions are:
Supply of immediate oxygen
Lung inhaler
Respirator (in severe cases only)
Immediate medication
Persons At Risk
Altitude sickness can happen to any person irrespective of age or sex. However, risks are more in the following cases:-
A patient suffering from cardiovascular or lungs disorders
Comfortable more with low elevation (plains)
A person having a history of altitude sickness
Pregnant ladies
The concerned hiker or visitor must take sufficient medical advice before starting the trip in the case of the above cases.
Conclusion
Climbing to hilly regions can make any person sick. It is normal and requires proper precautions and medications. Such things primarily happen to the hikers, especially when they plan the trek for the first time. However, several people already under specific medications can also face hurdles while going to higher altitudes. So, they must be ready to handle this temporary sickness. If the risks are more, it is better to cancel the tour.