Everything You Need to Know About a Career as a Nurse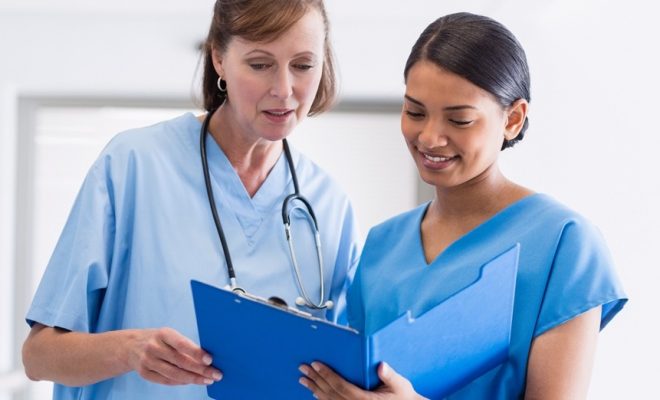 For many people, becoming a nurse is what they have always wanted to do. It's one of the most respected careers in the country, offering you the chance to help save lives and make a real difference to those you work with. Nurses are a vital part of the healthcare system, continuously striving to provide the very best care for all their patients.
If nursing is a field that you've been thinking of going into, here's a quick overview of what you need to know to help you decide if it's the right career for you.
What kind of work does a nurse do?
The role of a nurse is extremely varied. This is in part due to the wide range of locations you can work in and the areas you can specialize in. You might advise patients on how to lose weight at a clinic, administer vaccinations at a school, help care for elderly people in a care home, or prepare patients for surgery in a hospital. Other tasks include taking medical histories, performing physical examinations and running tests, administering medication, taking blood, maintaining medical records, and providing emotional support.
Generally you will work as part of a team with doctors, other nurses, and specialist healthcare workers. If you love to travel, you could even work as a nurse in the military or assist after natural disasters and other emergencies overseas.
How do I become a nurse?
In order to become a Registered Nurse, education is key. Most employers prefer you to have a Bachelor of Science in Nursing (BSN) rather than just an Associate's Degree in Nursing (ADN). This provides you with the necessary knowledge and hands-on experience to succeed in today's healthcare system. It's a four-year program that involves a mixture of academic coursework and clinical training, with many offering you the chance to specialize in an area of interest. If you already have a bachelor's degree in another subject, you can take an accelerated BSN nursing program in as little as a year.
After completing your degree, you will need to pass the NCLEX exam, which is administered by the National Council of State Boards of Nursing (NCSBN). You will then be able to apply for a license in the state where you wish to work.
For those who are aiming for a more specialized or advanced role, there's the option to go on to take a Master of Science in Nursing graduate degree. This typically takes two years and gives you a deeper knowledge of a particular area of nursing. Finally, you could also choose to do a doctoral degree in nursing, which will prepare you to work in research, university teaching, or very high level positions.
What skills do I need to become a good nurse?
There are lots of different skills necessary to be a great nurse. Firstly, you will need to have empathy and compassion for your patients. Being able to empathize with what other people are going through will help you to better understand and treat them, which in turn, will help your patients to trust you more.
Due to the fast-paced nature of the job, multitasking, time management and organizational skills are all vital. You'll have to be able to adapt to last-minute changes when emergencies arise, or when dealing with different types of patients. The role of a nurse is not always easy, so be prepared for long working hours (including weekends, holidays and night shifts) and coping with potentially distressing situations.
Other key skills include communication – both with patients and colleagues – patience, professionalism, and confidence in your own abilities. Attention to detail is also critical, as you have to be able to spot symptoms, follow instructions, and check details such as serial numbers and dosages of medications carefully.
What are the career progression options for nurses?
Nurses have a whole wealth of options when it comes to career progression. Continuing education is an important part of the job, whether that's keeping up to date with new technology and treatments or becoming more specialized in an area that particularly interests you.
There are many specialized roles that you can choose to train in. For example, you could become a pediatric nurse and work with children, or a geriatric nurse and care for elderly patients. Alternatively, you could study to become a nurse anesthetist, assisting with anesthesia during medical procedures, or a nurse midwife helping to deliver babies and educate new parents. Another option is to focus on providing care for a specific type of injury or disease, such as diabetes, burns, heart disease, cancer, or mental health conditions.
Some career progressions involve less direct work with patients. Nurse managers, for instance, oversee a team of nurses and focus on administrative tasks such as scheduling, recruitment and budgeting. Meanwhile, nurse educators help to train the next generation of nurses at colleges and teaching hospitals. You could also study to become a forensic nurse in the judicial system, or an occupational health nurse promoting good health practices in businesses and offices.
Is nursing a good career to get into?
With the current shortage of nurses in the US, it's a great time to embark on a career in nursing. The Bureau of Labor Statistics estimates that job growth in nursing will be higher than in most other industries over the next 10 years, with demand increasing due to the higher population of elderly people, as well as instances of chronic diseases such as cancer and obesity.
What this means is that a career in nursing can offer fantastic job security and financial stability, plus a good salary and other benefits. When you combine this with the many opportunities for career development and progression, plus the fact that healthcare jobs generally weather recessions and other difficulties very well, training to be a nurse is a great option when it comes to making a career choice. Plus, for those who want to do it, it's one of the most rewarding and fulfilling jobs out there.