4 Ways To Clean Your Anilox Roll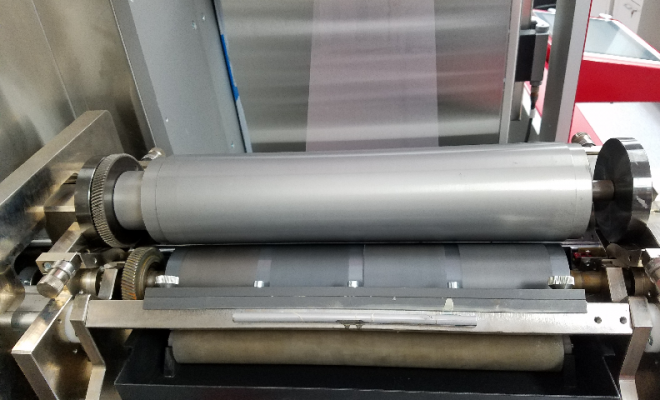 Different cleaning methods for anilox rolls are always good to know. Here are some of the most popular cleaning methods in the industry.
1. Baking Soda Blast
This method uses air pressure to blast baking soda onto a roll. The baking soda is then sucked off the roll, floor, and work table with a vacuum. This method works because of how the material impacts the roll. When the baking soda crystals hit, they break into smaller pieces. This allows them to get into tiny crevices and remove dried ink. It is also a good way to remove stains. It can be used on wide or narrow web rolls. However, it works best on chrome and ceramic.
2. Plastic Bead Blast
Similar to the baking soda blast, this uses plastic beads and air pressure to blast a roll. However, this is often performed in an enclosed cabinet away from the printing machine. The roll is rotated while beads are blasted from a nozzle. This allows the beads to remove the dried ink from every crevice. It is an effective method for removing dried ink and stains. This method is also safe and can be performed quickly. However, it can be more expensive to purchase a unit.
3. Ultrasonic Cleaning
A good option for ergonomic parts, this method uses ultrasonic waves to create cavitation in a liquid. This turns the liquid that the roll is submerged in into a cleaner. However, this method must be closely monitored because overexposure to the cavitation can damage a roll. To minimize the chance of damage, printers will want to set a timer. If you have a higher line screen roll, you should be extra careful as these are the most susceptible to damage.
4. Chemical Cleaners
Chemical-based anilox cleaners are one of the most popular cleaning methods used in the printing industry. This is because they work quickly and provide a thorough clean. When using these cleaners, printers must think about EPA requirements, cleaner bases, ink formulas, roll materials, and staff safety practices. This is because the pH of the cleaner will be very high to remove the ink. Because of this, it can cause damage to your roll if left in place too long. For instance, aluminum is corrosive and the most easily damaged. Typically, printers should avoid this cleaning method on aluminum rolls.
These are some of the most common cleaning methods used in the printing industry. Each one has benefits and disadvantages that you should consider before using them.